A long weekend in Cologne with kids
Submitted by

blizzz

A long weekend in Cologne with kids
Recently we spent a few days in the former Roman regional capital. We enjoyed three full days, arrived the late evening before and left on the morning after the last day. The method of travel was high speed long distance train. Being one of the largest cities in Germany, Cologne has good train connections and so we had a direct train.
We went in early March, with dry and sunny, but cold weather. The main objective was to wind down from work and today's world crisis. We selected a centrally located hotel ten minutes by foot from main station. The staff at Cerano was incredibly nice, their breakfast rich and awesome, and they offered really good wifi.
Overview
Ordered by perceived overall satisfaction. Our two kids were below six and below ten years.
Adults only, having Feierabend from parenting
The cathedral – 533 steps on the emblem of the city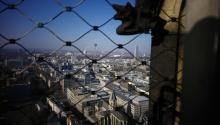 The Kölner Dom, world famous cathedral, is perhaps the first thing Cologne is known and prominent for. The gothic building is rising high into the sky and can be seen from many places in the city centre. It got its few centuries on its back thus granting a long history, including being used as horse stables during Napoleonic occupation and being in possession of some religiously important relics.
Now that is probably only partly interesting for kids, fortunately is has 533 steps to climb. These bring you to a viewing platform at one of its towers, just below 100m height. Predominantly a spiral stair case brings you on top. It is wide enough to allow to persons to go next to each other – necessary as it used both for climbing up and down. Later on you have a wider, metal stair case for the last part. Here you are able to look down and there is little the eye can catch hold on. This could be a challenge when you are afraid of heights (I had to support one child), but it will bring you to the platform where you enjoy a view above Cologne and the area around. Mind, there is no elevator.
Our kids liked this part and asked later again to go up the tower. It is definitely a good thing to do and gives you some exercise just as well. Visiting the tower requires a ticket, family accounts are available. We purchased a combined ticket that includes the treasure chamber for 18 EUR.
Adventure museum "Odysseum"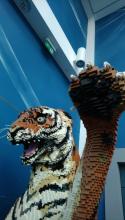 Expecting cold weather we looked for inside activities. One specially designed for kids is the Odysseum, a few tram stops from the city center. It describes itself as a adventure museum, sometimes it is refereed to as science center, but it is closer to a indoor playground with attitude.
The Odysseums has several attractions, for instance: a jungle (with a sportive game – hit all blue sensors in the jungle as quickly as possible), computer games with physical 3D input (Sisyfox steered by gym ball, or a surfboard-like board to control various games), a black lit area with a football game, table tennis and more, a skate hall also containing a very long football table, a board game room, a lego and duplo room, and most importantly the museum of the Maus, where kids can also create a stop motion video and download it later on.
The cafeteria inside has classic, simple kids-typical fast food (spaghetti, pizza slices, sausages and schnitzel, fries, also salads, not tremendous from a vegetarian point of view). The museum also has an outside area, which is an enclosed court, no escape possible ;)
We stayed there a day, which is not exactly cheap (80 EUR for the whole family), but the kids were happy and enjoyed it. For us parents it was also not boring and many installations are fun for us as well. A good thing to do!
Blacklight 3D minigolf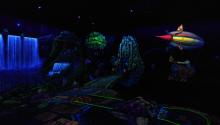 Very well reachable is also the indoor minigolf parcour. Eighteen lanes are played in three rooms, all in black light with a different theme: nature, urban and outer space. Elements are pointed on the walls and on the ground. You are equipped with 3D glasses, so it gets a real feeling and you do not always now whether the thing in front of you is flat ground or an obstacle.
On my turns, I took glances at the line without glasses to tell apart obstacles from 3D paintings, but kept them on otherwise. The kids took them off after some time, but played all the holes. Generally, the day was not theirs, nevertheless I can recommend this location as it is well-made and fun. We paid 31 EUR for all of us (kids below 6 enter for free). They also have a location in Köln Ehrenfeld.
Rhein river banks
It is said that a long long time ago (about 30 000 years) the river Rhine hosted hippos. This is certainly not the case anymore, but the large and wide river always was an a important waterway. In Roman times as well as nowadays.
You can walk on the banks and see various vessels float up or down the river. The two banks at the area of the city center are different. The city-center side hosts a big number of cafés (and street food in the side streets), green areas, a playground and looks to be the major place to board tourist ships.
On two of the days we spent breaks there, one on each side. We were fortunate to have clear sunny days and were warmed by its beams (in the shadow it was freezing cold). One day we crossed the Deutz bridge (on a place of a Roman bridge, on the opposite city used to be a Roman castellum of which remnants of a tower are visible), go downwards and return via the Hohenzollernbridge. Between, there the banks are styled terrace-like: you can settle down on one of the many steps, lie in the sun and be happy. Kids may climb around, hunt birds, or just chill as well.
This is certainly a nice activity to do during the day, especially when you love being around rivers.
Temporary exhibition of Roman-Germanic museum
In the city center is a huge construction on an area that is called the archaeological zone. This area includes, if I am not mistaken, the praetorium, part of the Roman-Germanic museum. Currently it is close for construction, and items are moved to make a temporary exhibition available, some ten minutes away in the Belgium House. This exhibition is also mentioned in the Cologne for kids information you may receive in the tourist info.
The exhibition, 6 EUR for adults (kids are free), is unfortunately designed on the old fashioned style: many items displayed, usually in cabinets, alas not all and you need to make sure that the kids do not touch those. There is a very beautiful, big mosaic showing different animals. Magnetic! There are a few soundless videos showing rough maps of Roman Cologne in different, in some eras after 0 AD.
I found the exhibition potentially interesting, but could be presented in a more modern way. Especially for kids the old-style type is boresome, I would not recommend it and you might always need to keep an eye on them.
The cathedral's treasure chamber
The sound of the words "treasure chamber" creates excitement and expectations in children. I suppose loads and loads of trunks filled with gold, coins, jewels. The confrontation with the chamber of the cathedral does not stand up to these.
Entering the chamber on the opposite side of the cathedral brings you to an exhibition of the precious items of the chamber. It is styled very classically: the items are mostly displayed in cabinets, enriched with a short textual description. There is no interactivity and nothing to touch. Most items are religious tools or accessories and therefore not very inspiring for kids. Frankly, I was not overwhelmed either.
Midnight snacking and cocktails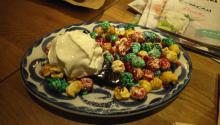 On the night of our arrival we put the kids to sleep and looked out for a relaxing dinner and something nice to drink. The clock read 11pm and a quick research did not bring clear results, so we headed out ourselves to find us later sitting inside Coyacan, a "Sunamerican" place with warm kitchen at these hours and a good choice of cocktails.
The interior is cozy, nicely decorated. It is lighted dimly, you find travel accessories, plants, pictures. The staff is friendly and has good recommendations. In fact we liked it so much, we came back on our last night as well. In our stays we ate tortilla chips, enchiladas as main dish, churros as well as pastel de chocolate as desserts. Food was always excellent, just note that the dessert may make your teeth hurt. Fortunately, there are several cocktails that can fight the sweetness.
The cocktails were tasty just as well a and served also in a aesthetic way. Even the jars are at least partly peculiar to a drink, and they state that for instance their sugar cane was processed freshly. We had Zuckerrohr (sugar cane) Daiquiri (rum based), Pineapple Cilantro, Passionfruit Ginger (my favorite), Mango Tamarind and classic Moscow Mule.
This works, of course, only when you (parents and kids) are okay to leave the kids alone in the hotel for two hours.